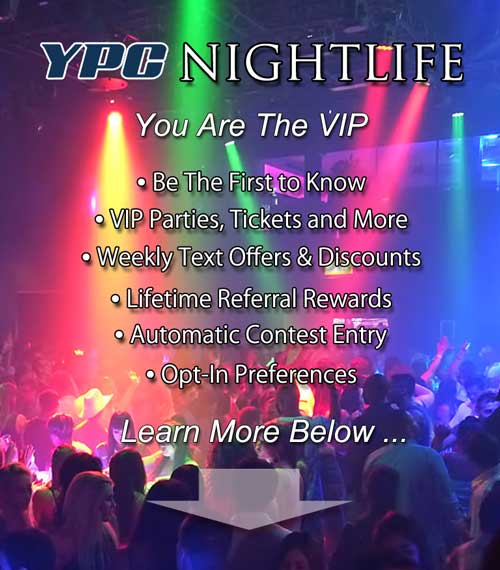 Be The First to Know
YPC Nightlife will send weekly text messages, emails, and other notices about what is happening this weekend! Visit http://nightlife.ypc.net at any time for the latest information at a glance. You'll always be up-to-date with YPC.
VIP Parties, Tickets and More
YPC is the way to find the very latest in events and deals. Our dedicated team is always on the lookout for the next great event or deal and we'll bring them to you as soon as we can. These deals will close fast once they are announced so stay tuned and be ready to act.
Become a VIP with YPC Points
YPC Nightlife rewards our members for their Nightlife activities with reward points that can be redeemed for food, VIP entrance, iPads, and more. Every unique check-in at a Nightlife Venue, new member referrals, and new club referrals, you are earning reward points.
Connectors Earn VIP Status Faster
Every YPC Member can also be a Connector! Our Referral Program is truly valuable as you receive a one-time referral credit for every new YPC referral and another credit every time that person checks-in forever! The more new members you refer, the faster you are earning perpetual rewards!
Automatic Contest Entry
Many of our Venues want to reward your patronage so they offer giveaways and drawings at some point during their event. It may be a free meal or VIP tickets to a later event. Simply check-in every time you see a YPC Check-In terminal and you're automatically entered (note: all rewards are issued via text-message. You must be active and enabled for texting to win).
Opt-In Preferences
YPC Nightlife is about you, our member. We understand that some venues are not of your particular interest or that you want to disable various messaging options for a given Venue. Simply go to the YPC Preferences tab and set your options for YPC and/or any participating Venue.
It costs you nothing to join YPC Nightlife! Enjoy VIP Access, up-to-date happenings and money saving opportunities. All this while earning reward points towards VIP Treatment every where you go.